According to the Huawei Technologies Global Connectivity Index, the digital economy is likely to double from $12.9 trillion in 2017 to an estimated $23 trillion in 2025: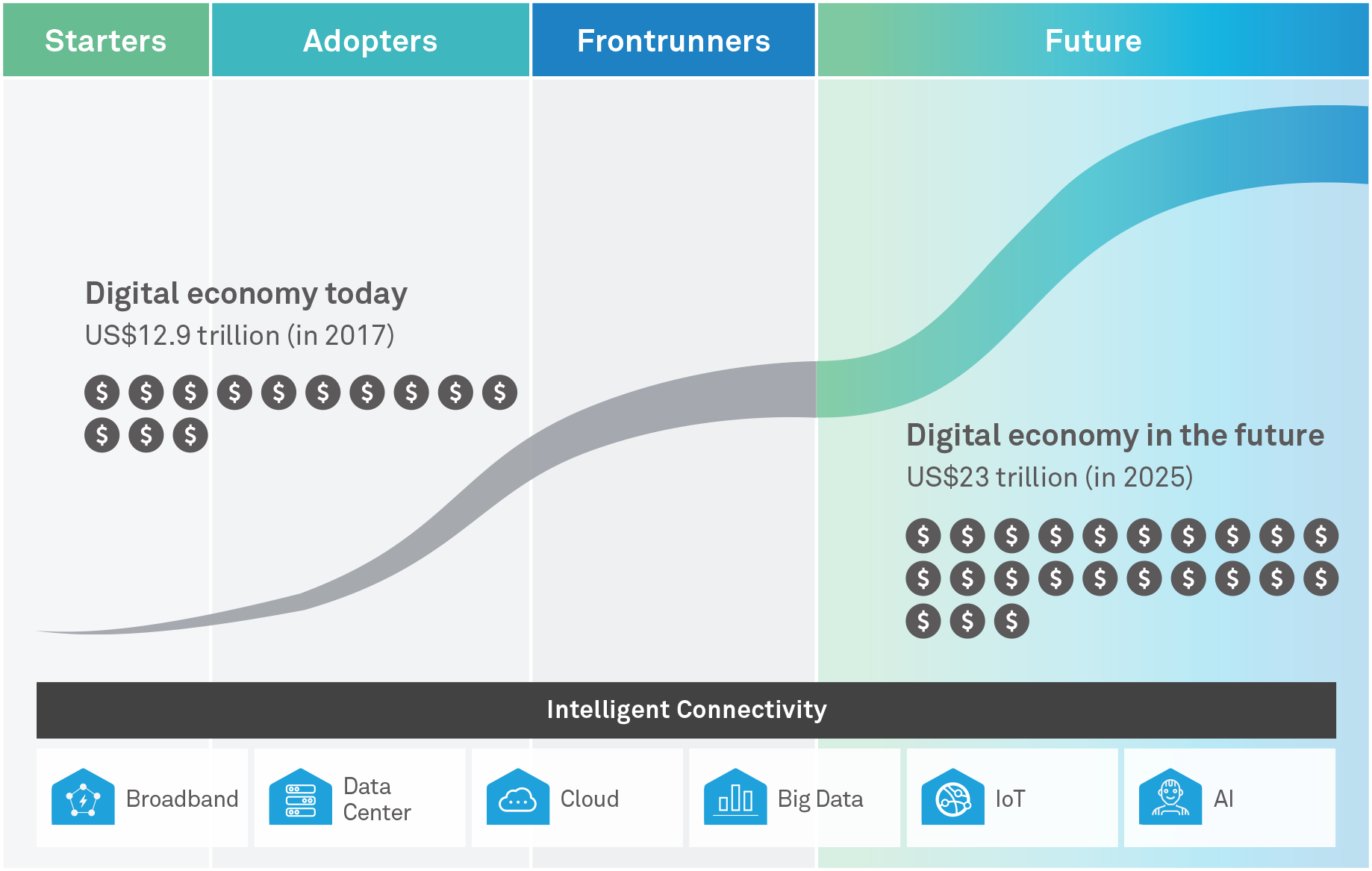 The chart above indicates the continued growth of connectivity, from which we can infer the necessity of increased resources. The three categories shown (Starters, Adopters, Frontrunners) group countries together based on GCI (connectivity) and GDP. Which is to say, content is a global commodity. In her 2007 article, Content Strategy: The Philosophy of Data, Rachel Lovinger states:
…the main goal of content strategy is to use words and data to create unambiguous content that supports meaningful, interactive experiences.


Lovinger, boxesandarrows.com
In a world of increasing connectivity, meaningful and interactive experiences are more critical than ever. With the overwhelming number of communication channels available to the average user, organizations must compete to create a considerately crafted environment for their users. The points Lovinger made in 2007 still apply. With digital media progressing daily, it is important to define content and refine it to maximize the benefit to the user.
One year after Lovinger published her article, Kristina Halvorson challenged the idea that a content strategist must function as an all-in-one resource, though she concedes that they are likely willing and able to assume the various roles that may be required over the course of a project. Halvorson's list is aligned with that presented in Contentini's 2010 listicle, Content Strategists: What do they do?
By these early definitions, a "content strategist" is an individual who can take ownership of every step of the process. From initial research of existing content and user behavior through information architecture, production, distribution, and post production evaluation, the role is expected to plan and support the creation and maintenance of content.
Even then, the article captured the sheer breadth of this expectation:
…generally anything that communicates on behalf of the organization – no matter how small – can be classified as content.

Dan, Contentini.com
The titles and content of these pieces are indicative of the questions that were being asked at the time. They center on explaining the field or the role, and provide a brief statement on the benefits of pursuing the path of content strategy. A search for the term 'content strategy' now yields vastly different results; starting with a definition snippet from Wikipedia, followed by a list of how-to resources, as if it has become a simple fact. Like baking a cake, content strategy is a thing for which instructions are available.
The accessibility of these resources indicate the ongoing growth of the field, and case studies across varying project scales provide valuable details on real-life implementation. For example, the Portland State University Library published an article in the Journal of Library User Experience documenting their methods for content strategy. Complete with templates for establishing goals, style guides and a planning calendar, the article encapsulates the nature of content strategy as an ongoing curation and refinement. The author states:
We cyclically identify the most salient content, and remove everything else. We have clearly established workflows for introducing new pages, deleting pages, and updating content.

Buchanan, Journal of Library User Experience, Vol. 1 Issue 6
The critical word is "cyclical." While content strategy may have once been seen as a novelty, it is now a necessity for any organization that wishes to maintain an active and beneficial relationship with their users – whether internal or external. Earlier in 2018, Veronica Camara published a brief piece on UX Planet describing three lessons content strategists can take from ninjas:
Gather intel first.
Employ empathy at every step.
Maintain flexibility/adaptability.
I propose that organizations employ these three pillars when deciding whether to incorporate content strategy into their larger business plan. It is much easier to gather 'intel' on the field. Newcomers to the notion have a much larger pool of resources from which to conduct educated discussions or prepare compelling arguments. Employing empathy toward their target audience can assist in assessing the value added by employing a strategy. Maintaining flexibility will ensure the continued evolution of the strategy as inevitable changes appear.
In an increasingly global market, irrelevance is the enemy. A mindful content strategy can be what distinguishes an organization as a resource and elevates it above the noise.
---
Resources